Aloha United Way
For more than 20 years, Kyo-ya has been a proud supporter of Aloha United Way's mission to "improve lives, motivate people to help others, increase resources to meet needs and inspire collective solutions to community problems." In that time, Kyo-ya and its hotels, managers and associates have contributed more than $3 million.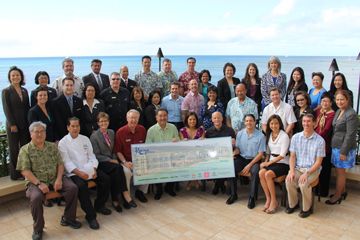 On January 23, 2013, executive leaders from Kyo-ya Hotels & Resorts and Starwood Hotels and Resorts presented a check for $150,500 to Aloha United Way president and Chief Professional Officer Kim Gennaula to benefit non-profit organizations that provide more than 600 individual services from pre-natal and hospice care to education and poverty prevention.

Not just a passive fundraiser, Kyo-ya takes an active role in supporting Aloha United Way's annual fundraising campaign to help meet community needs throughout the Hawaiian Islands. Kyo-ya assigns a staff member to work at Aloha United Way full-time during the campaign; it also encourages associates to host fundraising activities such as car washes, bake sales and cookbook sales. The proceeds from Kyo-ya's fundraising efforts, averaged over the last nine years, amount to some $121,000 annually.
In October 2011, Kyo-ya employees set up a haunted house fundraiser at the Princess Kaiulani Hotel to raise funds for Aloha United Way.